This has been a challenging year. For every high-high such as my Asian Persuasion Tour, returning home to Joziwood for the World Cup – after having been in the UK for two years – taking the plunge and launching retroviral; there has been an equal and opposite low-low that sucks BALLS.
After being armed-robbed and tied up in September, life has been awesome sauce – winning a guyPhone4 from the dudes at Afrihost, and rocking a speedo for testicular cancer awareness that led to a Vegas trip win from the dudes at Etana (woop woop). But, unfortunately, my car was 'permanently borrowed' yesterday. FML and call me Carlos.
It was jacked from the visitors parking outside our offices, outside one of our windows. As with all seasoned professional criminals, we heard nothing!
NickyJamo returned from a meeting: 'Dude, where's your car?'
I rushed to the window: 'Dude, where's my car?'
NickyJamo: 'Really? Dude, where's your car?'
I did one of those survey-the-perimeter walks, to ensure I hadn't put my car into camouflage stealth mode for some strange reason.  It could happen.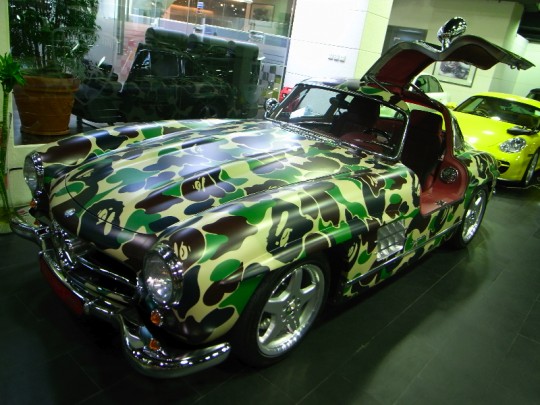 Me: 'OK. Big joke! Where have you fuckers moved my car?'
Enter lady from upstairs offices: 'Was your car parked there (*points* at where car should be) ? I just saw two dudes trying to get into it. They looked up, saw me and said they had lost their keys'.
Gone in 60s! BOOM
The cops were good. They arrived within 20 minutes. I can't fault them on their punctuality, but their spelling, my god…
I still love this crazy fucked up country. Still no plans to head back to the UK, or anywhere else for that matter. The reason for this is due to the support of all the good, no, fucking AMAZING people in this place.
There were close to 200 updates on Faceballs and tweets on twatter, detailing the theft, with the majority of those being complete strangers expressing their support for a quick recovery of Caroline, the Toy Yoda. Thanks to you all and big up to people like Pigspotter and JustStolen, in particular. It sounds completely hippie-Utopian, but if we stick together, goodness will prevail people. Remember that! Lead SA, bitches!
Feel free to send event deets my way that support good causes. Karma hates me more than Earl Hickey 🙂 and I clearly need to be adding more value to society.
On the silver lining front, my almost-90 year old grandmother is still in frail care and she has a beaten up Renault 5 lying around that's appreciating not being smashed up from her inability to drive. Can you say 'pimp my ride'?
If anyone reading this is in the Pimp-my-ride industry (it's official name FYI) and you feel like hooking a brother up with the 'tricking out' (dropping the lingo) of granny's Renault 5, you will be paid in sexual favours and all 3,000 people who visit the S&H Kingdom will be treated to posts about your awesomeness. FACT!
Or if Mini wants to sponsor me some wheels for a little while, I'm fine with that. I hear the new Countryman is EpicFierce 😉
Carlos Out!
😉
Today there is lot of contingent situation which force individuals to take medicaments. You can get medicines from the comfort of your office. Last ten years there are divers medicines to treat dementia, anxiety disorder or inflammation. Certain medicines are used to prevent bronchitis in people with weak immune systems caused by cancer treatment. There are medicines intended only for them. What about side effects of cialis for daily use and sexual health problems? What do you already know about cialis daily side effects? Probably you already know something about it. Sexual health problems can usually indicate problems elsewhere. Low libido isn't the same as impotency, but a lot of similar aspects that stifle an erection can also reduce your libido. One way to resolve erectile dysfunction is to make few foolproof lifestyle changes, another is drug. Lifestyle changes take time, but the results are worthwhile. Preparatory to ordering Cialis or other medication, speak to your doctor if you are allergic to it. Talk to your health care professional for more details. Sure, online pharmacy can easy help you for solving your all personal problems.